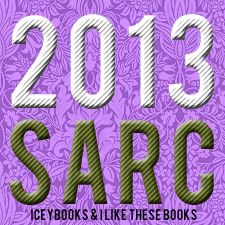 Welcome to the 2013 Standalone Reading Challenge (SARC)! If you're back for a second year - welcome back. If you're new to the challenge - welcome, and best of luck! This year is going to be a ton of fun with awesome authors and prizes given away each month. Below is all the information about the challenge. This page will be updated each month with links to the current prize pack and other SARC posts.
See which novels qualify for the challenge and join the challenge by linking up to your blog, goodreads, youtube, library thing, or shelfari page.
My co-host, Hafsah at
Icey Books
has created amazing buttons for you to show off on your blog. Pick your favorite and proudly display it!
If you are a YA or MG author with a standalone or companion novel coming out in 2013, we'd love to have you participate in the challenge (no donation required). You can sign up at any point in the year. We are trying hard to feature the authors close to the novel's release date for maximum publicity.
I created a Goodreads list to help you find books eligible for the challenge. Please be aware that everyone with a Goodreads account can add to it, so I can not account for the accuracy of every novel on the list. If you see a novel not on it, please add it. If you see a book that is actually part of a series, please leave a comment and I (or another goodreads librarian) will delete it. Thanks so much! Also, please note that this is not a list of the authors who are participating in the challenge, but rather books that count towards readers' goals.
In addition to the Goodreads list, we have created a spreadsheet of eligible titles. This list is constantly updated and is no way a comprehensive list. Also, please keep in mind that these are
eligible
books, not a list of the authors who are participating in the challenge. Please leave a comment if you want a title to be added to the list. Also note that this is not a complete list. There are eligible titles out there that we did not find and put on the list.
Prize Packs
All prize packs are US only and end on the last day of the month at midnight. Each participant who links up to a new review of a SARC book during the given month is entered to win. Each linked review counts as a new entry. Winner will be chosen the first week of the following month and contacted via email.
January
February
March
April
May
June
July
Special Posts